I am currently thinking of climbing Mt. Fuji.
I thought the plan to go from Gotemba-guchi five-way route, but while searching the net, it is a translation that I also think for a moment by looking at the blog that it has been a day trip to the top of the mountain mountain climbing to the Fujinomiya mouth fifth of Mt. Fuji in touring.
Can you really do that?
If you look at that blog,
We went on a motorcycle on the weekday of August 30th and started climbing the mountain at seven o'clock in Fuji Miyaguchi new fifth.
※ Because the information is a little old, it seems better to examine the five-way parking lot etc. properly.
Around eight o'clock seventh
Nine o'clock, ninth.
Around 11:00 am, about 11:30 am, to Kengamine
15:30 arrival in the fifth place parking lot
It was the content.
Is it easy to make Mt. Fuji mountain climbing so easily???
Since I've never been there, did I have to assume that it's hard to believe?
But, because it is a mountain of one height Japan, I want to go carefully because it might lead to a big injury if I lick it.
In fact, I also plan to try to actually do.
However, when I enter the mountain climbing and altitude sickness something or even a little accident in the body, I think that I try to go down without unreasonable.
I want to go by motorbike, but I tried to find out what route I should go.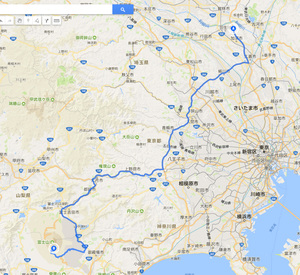 It seems to go almost at a high speed, but at a distance of about 200km from Hanyu PA (Tohoku Expressway) in Saitama Prefecture, it seems to be able to go to the Fujinomiya-guchi parking lot in about three hours.
With that time, and decided to schedule a climb from the site of the camp introductory like climbing for beginners and
(1) Depart at 4:00 am
(2) 7:00 am (1 hour)
(3) Start climbing at 8 a.m.
(4) 8:30am 6:30 minutes from start
(5) 9:30 a.m. new 7-Th ((4) to 60 minutes)
(6) 10:20am Original 7 mating [50 minutes]
(7) 11:10/8 (50 minutes)
(8) 12:9 pm (50 minutes)
(9) 12:40PM 9 5 Shaku (40 minutes)
(10) 13:30 p.m. at the top of Fujinomiya (50 minutes)
(11) 14 p.m. Kengamine [30 minutes]
(12) 14:30 pm Fujinomiya Top (Shimoyama start) 【 30 minutes 】
(13) 15:00 Shaku 5 (30 minutes)
(14) 15:20 PM 9 (20 minutes)
(15) 15:50 PM 8 (30 minutes)
(16) 16:30pm Original 7th mating [40 minutes]
(17) 17:10 pm 7 (40 minutes)
(18) 17:50 PM 6 (40 minutes)
(19) 18:30 Fujinomiya mouth Goten parking lot
(20) 21:10PM Home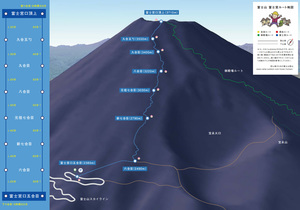 I think that it will be about ten hours of climbing and six hours of two phosphorus in such a feeling, but because I do not overdo it, I might adjust the time by the descent without going to the mountaintop.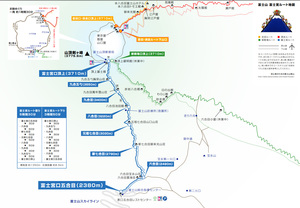 If you look at the guide map above, the round trip distance 8.If you look at 5km (altitude difference 1350m), if you take the trail run on the way, I think that it is possible to 10 hours about 6 hours.
However, because the oxygen is thin, it is a trelan after understanding enough that it is not necessary to lick it.
Even if it does not go to the summit success at one time, it might be good to try several times and to the mountaintop.
I will continue to blog when you actually run.